Mount Hope Lutheran Church ~ LCMS is located at 30571 Chestnut Drive, Evergreen, Colorado 80439. Our phone number is (303) 670-1387.
​
We are a Lutheran Church Missouri Synod congregation, and we warmly welcome you to join us on Sundays and during our scheduled activities during the week. Please check the calendar for more information.

---
God's Christmas Gift to Us
Thanks be to God for His indescribable gift! 2 Corinthians 9:15
The month of December ushers in the Season of Advent, giving us 4 weeks to get ready, and to prepare our hearts in expectation, for the birth of our Savior-Jesus. Advent brings with it rejoicing. I think of the Advent hymn: "The King of Kings is drawing near, the Savior of the World is here."
It is a long held tradition to give one another Christmas gifts. These gifts are symbols of the vast, inexpressible Gift of God-His Son-as our Redeemer from sin and death.
Paul says this gift, is inexpressible, because God's love for His creation is far beyond our understanding, for who can comprehend "How wide, and long, and high and deep is the love of Christ" Ephesians 3:18? The Father's love for the world is so strong and deep that He gave us His own dear Son, He did not spare His Son but delivered Him up for us all. "For God so loved the world, that He gave His only Son" John 3:16.
Our Christmas gift is also inexpressible because the eternal Son of God, whom the heavens and the earth could not contain, became man and laid in a manger as a little baby. He, who with the Father created and sustains the world humbled Himself to the point that He came to earth as a helpless infant. So inexpressible and "beyond all question, the mystery of godliness is great; He appeared in a body" 1 Timothy 3:16a.
We thank God this Christmas and always, for His indescribable gift of Jesus, our Savior, who saves believers from their sins! What a gift we have in Jesus.

Christmas Blessings to All,
Pastor Frank



Powered by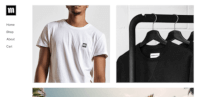 Create your own unique website with customizable templates.